How Nearshoring is Unlocking Opportunities for North American Manufacturers
Written By Carlos Hernández, Ulbrinox
In the last two years, we've heard more and more about "nearshoring," the trend of relocating enterprises with the goal of shortening supply chains in North America to make them more consistent and trustworthy for the industries they serve.
During the last third part of the twentieth century, several North American industries were focused on cost reductions through outsourcing and relocation of production to low-labor-cost countries and regions. Many Asian countries - and especially China - were the recipients of these new investments.
But since 2020, several global events linked together to revert this trend, as supply chains were significantly disrupted because of:
President Trump's speech against China and his intentions to reduce the dependency of the US economy on Chinese supplies.
The renegotiation of NAFTA to become the new USMCA, with new and tougher rules of origin which raised the regional content in steel, aluminum and other raw materials, in order to grant preferential duties in automobile, appliance, construction and other industrial products manufactured in the region, avoiding triangulation.

The several months-long closures of Chinese factories due to the COVID-19 pandemic's enforced confinement.
The disruption of transport patterns and ocean routes from China to America, caused by ports closure, the lower ship availability, and the consequent global shortage of containers due to late or non-existent geographical relocation.
The significant increase in ocean transport costs between Asia and America.
The high dependency of the automotive industry on Taiwanese semiconductors (chips) and auto parts manufactured in several Asian countries.
The invasion of Ukraine by Russia altered commercial flows and merchandise transport.
Economic and military tensions in the south China sea derived from Xi-Jinping's declarations related to his intended reunification of Taiwan and China.
All the above has forced American and European firms to look for new locations to return production from China and Asia to sites nearer to North American factories.
In this context, Mexico has been one of the most favored places by this trend. Many publications talk about German, Japanese, Italian, and US companies that close their facilities in Asia to come and establish themselves in the Bajio region (Querétaro, Jalisco, Guanajuato, San Luis Potosí, Aguascalientes y Zacatecas) and the northern Mexican states (Nuevo León, Coahuila, Tamaulipas, Chihuahua, Sonora y Baja California Norte). See references at the end of this article.
The Mexican (economics and politics) opinion leader Macario Schettino has disaggregated the different segments of the Mexican industry, founding that the manufacturing segment has recovered very fast, even to higher pre-pandemic levels, which is explained by the "nearshoring" effect, as shown in the following graph built by him: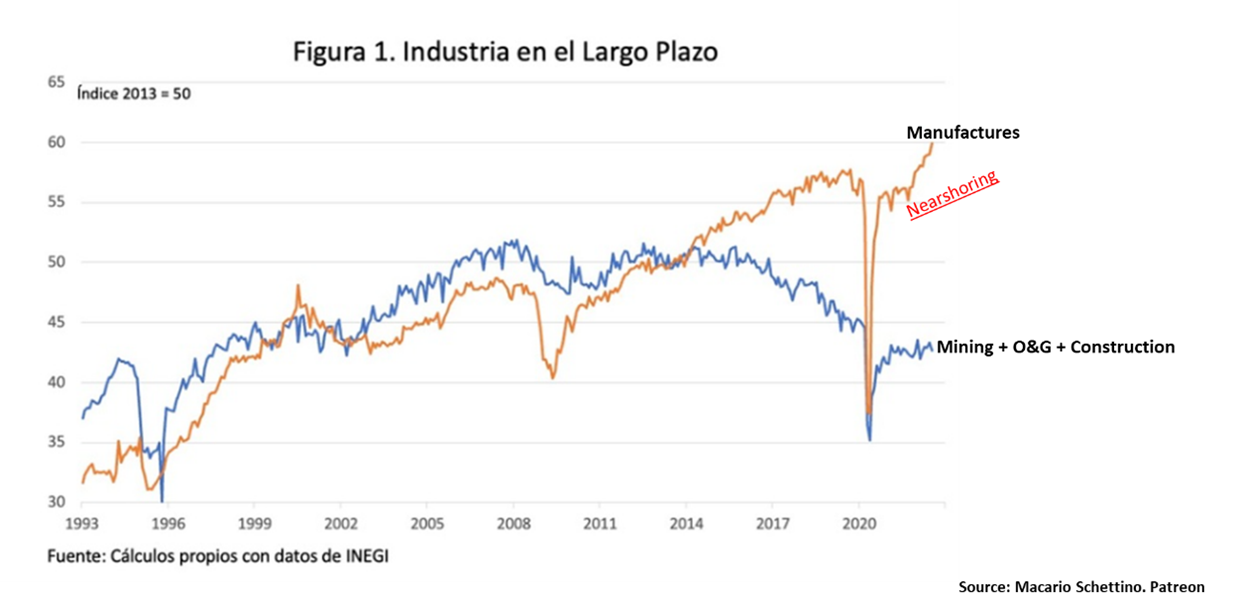 On the other hand, the president of the Mexican Association of the Private Industrial Parks (AMPIP), Mr. Sergio Argüelles González, declared on November 14 to Forbes Magazine that 2021 has been the best year ever for the Mexican industrial parks, and its projections for 2022 is the opening of 25 new parks, representing 6 million square meters (1,482 acres) of construction, with the generation of 107,000 new jobs. Total estimated Capex is around US$ 2.5 bn.
Mr. Argüelles believes that the automotive segment will keep the lead in the economic development of the industrial parks. Only in 2021, 50% of the activity in these industrial spaces corresponded to this segment, especially in auto parts.
On its edition of November 16th, 2022, Mexican newspaper Reforma reported that auto parts production in the first eight months of 2022 was 7% higher than the pre-pandemic level, August being the month with the highest growth rate at 16% vs the same month of 2019. Total investment in this sector reached US$ 3.4 bn in 2021, and the destination of Mexican auto parts exports is 89% to US, 3% to Canada and the rest to Brazil, China and Japan.
A growing application derived from the fast increase in eV vehicle production is the use of aluminum and stainless steel for the vehicle's battery casing and for the inner parts of level 3 fast electric chargers.
In addition, Grupo Bursátil Mexicano (GBM, a Mexican bank, and brokerage firm) stress the fact that Mexico and the United States recently announced they plan to reap the benefits of the Biden administration's massive investment in semiconductor production to push the integration of their supply chains and jointly escalate the production of electric vehicles.
The home appliance segment has also received nearshoring's benefits, as according to AMPIP data, they represent 12% of industrial space activity, while plastics have 5%.
GBM estimates that if Mexico substitutes 5% of the exports to the United States from China and its Asian main competitor in ten relevant categories, Mexican exports could grow by an additional US$22.90 billion per year (equivalent to 1.77% of GDP).
Nearshoring's development opportunities are mid and long-term and not just a temporary trend, given the economic and geopolitical causes of its origin. An additional positive factor is the associated knowledge transfer, which might allow Mexico the development of new technologies for the global operation of the firms.
Ulbrinox is well-positioned to capture growing nearshoring opportunities in Mexico
It is in this context that the BOD of Ulbrich Stainless Steels & Special Metals, Inc. have approved the CAPEX project to install a 36" wide slitter at Ulbrinox, the service center specialized in precision strip, that the group has in the city of Querétaro, Mexico. The new line will be fully operational by Q3-23 and will process aluminum and stainless steel in a thickness range between 0.060" and 0.005", and an exit width range between 36" and 0.300".
This new equipment, and its associated fully automated packing line, will allow Ulbrinox to serve the needs of a wider product range in the automotive, appliances, and electronic industries, which are the most favored by nearshoring.

Ulbrinox is an important partner to the automotive industry, having IATF 16949 certification of its quality assurance system, and being suppliers of Tier 1 and Tier 2 companies.
Ulbrinox's supply chain has proved to be stable and robust, as even during pandemics, our service level and on-time delivery to our customers were kept at 98 % level or higher.
The seasoned management team at Ulbrinox has the experience and knowledge to take the company to the next level and has become the leader in precision strip processing in Mexico and together with Ulbrich group companies, also in US and Canada.
This is why we can proudly say that we are an aluminum and stainless steel service center well-positioned to capture the growing opportunities that nearshoring brings to Mexico.
References:
"Nearshoring: ¿el camino que salvará a México?".
Forbes. Roberto Arteaga. Noviembre 14, 2022.
"Nearshoring: Mexico is the smart landing choice".
GBM Document. September 27, 2022.
"15 empresas italianas llegarán a México atraídas por el 'nearshoring'"
Forbes. Enrique Hernández. Septiembre 28, 2022.
"Nearshoring: México ya es el centro manufacturero de las empresas chinas
Las empresas chinas han alquilado 4 millones 224 mil pies cuadrados de naves industriales en México, indica Market Analysis".
Forbes. Enrique Hernández. Noviembre 10, 2022.
"Empresas de Alemania, Japón y EU cierran sus fábricas en Asia para irse al Bajío"
Forbes. Enrique Hernández. Abril 27, 2022.
"Rebasa producción de autopartes niveles prepandemia"
Reforma November 16, 2022, sección Negocios, página 1.
All articles