What to Look For in a Strip Supplier for Automotive Manufacturers
Buying metal such as stainless steel or aluminum to use in manufacturing your products is a major purchase. Coil used to stamp parts for automotive applications can cost anywhere from few thousand to hundreds of thousands of dollars or more! The quality of that material and the company you buy it from can affect the success of that material for your business in a variety of ways.
It should come as no surprise that buying coil is a purchase that you should never take lightly. For many of you, your ability to successfully hit your company's KPIs when buying steel and aluminum from melt mills, service centers, or precision rerollers hinges on a variety of factors from price to quality. There are also many other factors that play a role including tolerance and mechanical properties.
When sourcing stainless steel or aluminum it's important to understand that some metal suppliers and manufacturers such as reroll mills supply metal to multiple markets, while some prefer to specialize in one or two, whether it's automotive, construction, or aerospace.
It's easy to understate the complexity of metal purchasing but when you look at the landscape of metal providers you're faced with another tough choice -- which of the top service centers or precision metal manufacturers should you choose to source your stainless or aluminum strip coil from?
There is a lot of research that you need to do before buying material and a lot of decisions that need to be made.
If you leap in without doing your homework, you could overpay, purchase a coil that has quality issues or lacks the appropriate temper, has sub-optimal corrosion resistance, or mechanical properties, etc. Doing your research can help you make educated and informed decisions about the type of metal you buy and its properties.
Our goal with this article is to help you understand key elements to consider when selecting a supplier of stainless steel or aluminum coil with high corrosion resistance and high malleability, especially for those of you located within the Mexican automotive industry.
If you still have questions after reading this article, please contact us, and we'll do our best to answer as completely as we can!
So, what should you look at when evaluating raw or engineered material suppliers? Let's get into it...
1) Capability
The first thing to look at is capability. Is this service center or reroll mill able to produce the material I need, to the specification I'm working with? Are they able to slit material to the widths that you need with the skived edge you require? Capability is paramount because if they don't have the capability to produce or supply the material how you need it, there is no relationship to be made.
Autopart manufacturers in North America have varying needs in regard to the capability their suppliers need to have in order to execute successfully. There is a wide range across manufacturers regarding the level of precision, their alloy processing capabilities, and their means to deliver on thickness, width, tolerance, mechanical property and temper requirements.
Do your research and look closely at the supplier's website and industry directory profiles to get an understanding of their capabilities. Then, reach out to the best candidate(s) for more information.
When working through the initial quote process with a metal manufacturer you should be sure to include as many details as possible about the specification and provide as many specific details about your request as possible including estimated annual usage. This will help the service center self-identify whether your request is something they're able to provide.
2) Alloy Selection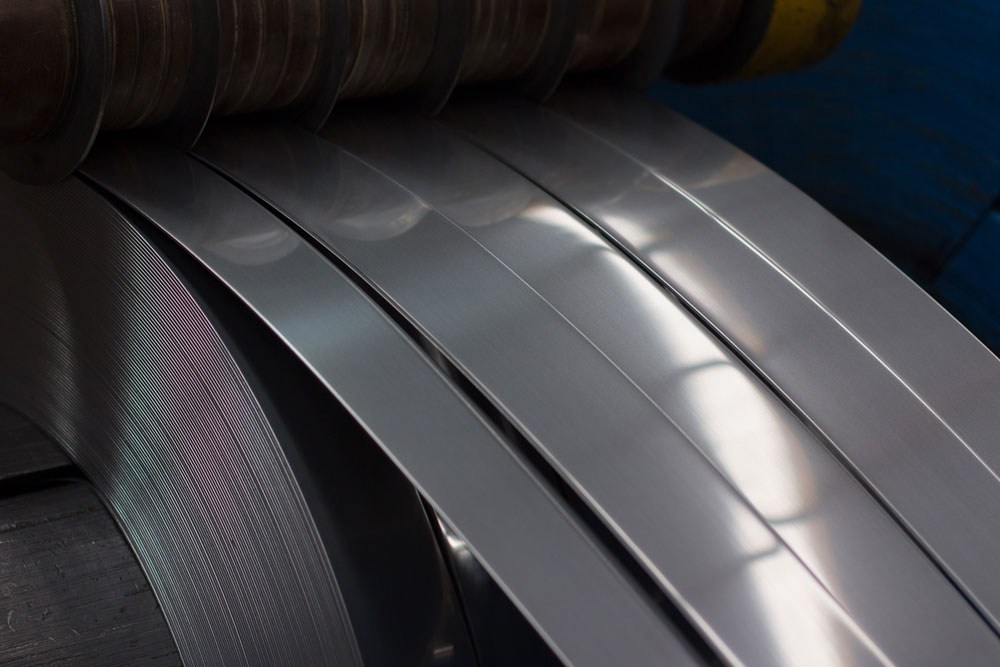 Parts manufactured by stampers and fabricators used to produce automotive engine components, airbag systems, and sensors are made from a variety of alloys that can withstand demanding conditions such as heat, stress and environmental factors. Applications like these are inheriting demands as a result of innovation. Auto engineers and designers are pushing the envelope for lighter weight, better performance, increasing electrical properties and greater durability. These demands put increasing pressure on the alloys selected and open the door to new alternatives being required to meet the needs of the end use.
Auto part manufacturers like yours are also being charged with focusing on components that allow vehicles to use fuel more efficiently. In addition, as manufacturers are crafting and rolling out their electrification strategies the need for lighter weight and higher strength materials are at the forefront.
With this trend of looking for lighter cars, it is necessary to use suitable materials, which benefit the cost and production time. For this reason, vehicle manufacturers are in constant search of new alloys which are of the utmost quality and precision for their models. Mainly, looking for them to be attractive to their customers and to allow them to improve the safety they can offer in each car, avoiding noise, vibration and reducing fuel consumption, in addition to complying to the letter with environmental regulations, which have become increasingly strict. Car lightening is the best way forward and the biggest manufacturing trend for years to come.
Fortunately, there are several alloys in the commercial mainstream that have proven themselves in these critical applications. At Ulbrich, buyers can obtain just-in-time deliveries when required and select from generous inventories covering more than 165 grades of stainless steel, aluminum, nickel alloys, cobalt alloys, and titanium and titanium alloys in a range of thicknesses, shapes, sizes, and tempers. They include foil and strip in a variety of gauges, as well as wire, round bar, centerless ground bar, hex bar, rod, sheet, and plate from other Ulbrich divisions.
3) Compliance
Compliance can be a crucial factor for manufacturers supplying parts to the auto industry. You need to ensure that the supplier or rolling mill partner you are buying material from has the necessary certifications to satisfy your compliance requirements. In the auto industry, there are a few major certs that you might require your supply chain partners to have in order to give them business on a particular part.
IATF 16949
These standard certifications include IATF 16949, which is a standard that affects the vehicle manufacturing process and the supply chains that provide materials to automotive manufacturers. The primary objectives of this regulation are to prevent waste in the supply and assembly process, avoid manufacturing defects, improve the quality of manufacturing processes and increase the safety and reliability of vehicles. The International Automotive Task Force developed this regulation to coordinate the quality standards of different countries.
If your organization is IATF 16949, it would be preferable for you to source materials from a metal service center, or precision reroll mill that is also IATF 16949 compliant. Ulbrinox, a division of Ulbrich located in the heart of the Mexican auto industry, has this cert and has supplied stainless and aluminum to countless auto manufacturing partners. IATF certified (or in process) is a requirement for many of the top contract manufacturers supplying parts into the major OEMs.
ISO 9001:2015
Another commonly required cert is ISO 9001:2015. ISO 9000 is a comprehensive set of standards that provides goals to help various businesses improve their practices. Several Ulbrich facilities around the world including Ulbrinox have ISO 9001 certification. The ISO 9000 family of standards includes seven quality management principles: customer focus, leadership, engagement of people, process approach, improvement, evidence-based decision-making, and relationship management. The ISO 9001:2015 certification shows that a company complies with the ISO 19000 family of standards in their practices. It can demonstrate that a business is committed to excellence and improvement in its customer relationships.
ISO 14001
A cert that has come into increasing focus and importance in recent decades has been ISO 14001. The ISO 14001 certification is an important certification for some auto part manufacturers that is looked for as it shows a company's dedication to environmental responsibility. It's based on a business's compliance with the ISO 14000 series of standards. The ISO 14001 shows that a firm is working to reduce their negative environmental impact in all their processes and can help companies build a more positive relationship with their customers and avoid environmental sanctions. At Ulbrich, we strive to meet the main requirements of this standard, even at locations who are not officially 14001 accredited.
4) Quality Control Measures
Quality, reliability, and innovation are the driving forces that not only make up the DNA of Ulbrich and Ulbrinox, but describe the responsibility of every manufacturer that comprises the supply chain for automotive stainless and aluminum.
In order to know that you are working with the right supplier and maintain a seamless supply chain you need to work with a service center or reroller with highly advanced quality control.
Working with a partner who provides support from metallurgical experts for technical insight who can help your team anticipate and avoid problems that arise during the development of new projects is key to ensuring speed to market. In addition, a team of technical experts play big roles in providing unparalleled quality control.
Wavy or scratched material is unworkable. Coil used for auto applications needs to be flat, with the right surface finish, temper, and edge condition. When surveying vendors, ask about their capabilities for achieving flatness and consistency in material, and about how their metal can provide for uniformity within your finished products. Quality is one of the core values at Ulbrich.
Quality control measures are extremely important to your business, and your ability to keep your machines running material. Your supply chain partner, and your organization should both be obsessed with reducing scrap, eliminating material defects, and ensuring quality. This starts at sourcing and extends through the processing and shipment of materials to your loading dock. For example, Ulbrinox shares Ulbrich's commitment to quality which means delivering precision tolerances for our customers demanding specifications to keep scrap attributed to poor material quality or imperfections low and yields high. Our team pays meticulous attention to detail and utilizes vision assist systems and other industry 4.0 technology to ensure your exact specifications are met, every time.
5) Inventory Availability
Do they have or have access to the material? Seems like a no-brainer question to investigate, and it is. In addition to alloy selection and supplier development - inventory availability, and consistency of that availability are key when looking at potential material suppliers. You need to know that they have the metal and that they will be able to source it regularly so that your machines can keep running. In today's metal landscape, oftentimes that is easier said than done. Acquiring metal is tough in this climate and it takes your service center partner having deep, long-term relationships with a wide range of suppliers who can provide the material you need. Not every service center or reroll mill has the same buying power as the source of supply. Service centers who have the material you need in stock or have expertise and the relationships in place to acquire that material regularly should float to the top of your list when identifying supply chain partners.
6) Supplier Development
If you're making heat shields, moldings, emblems, automotive trim, automotive bellows, exhaust systems, clamps, or EV Battery components, you need material to make your product. Whoever is supplying your coil needs to be committed to supplier development to keep you in metal when you need it. Along similar lines to the need for inventory availability, you need your supply chain partner to be actively involved in developing their supplier base, building those relationships, and fighting to get the metal you need at all times. Proactive supplier development reflects an organization that is reliable, dependable, and committed to its customers as well as their role in the supply chain. When you go to buy coil to make products that go into vehicles, whether that company is working towards expanding their source of supply is an important consideration. There is a reason Supplier Development is one of the areas audited by the IATF intensively during their certification process. If you see that in the metal service center you are looking into for your stainless steel or aluminum materials, you can rest assured that they will be obsessed with getting you the metal you need on time with pristine quality.
7) On-Time Delivery
Few things can sour your buying experience than delays in receiving your metal. Finding a supplier with an IATF certification ensures that your auto manufacturing jobs deliver on time. Through process control and the efficiency Quality Management Systems, you will be working with a metal service center who is able to meet your objectives for deliveries per year, on-time deliveries, and deliveries without defects.
8) Customer Satisfaction
The automotive industry has been changing radically over the course of recent decades. It stopped being a traditional industry, which focused on manufacturing and migrated to new business models, where there are more participants and where technology giants are changing the rules of the game. This shift has also disrupted and transformed expectations placed on manufacturers and suppliers throughout the supply chain as well.
Meeting those expectations and delivering promises throughout the spectrum of qualities listed throughout this article translates into elevated levels of satisfaction from customers such as yourself. Direct customer service, and person-to-person relationships matter as well, but the overall satisfaction you can expect trickles down from all the other dimensions we have walked you through. If you can find a supplier who treats your project as being as big of a priority to them as it is to you, you know you have hit the mark. Suppliers who are IATF certified are special in this regard and it's why so many automotive-focused companies look for it, and that's because it's a measured KPI for them. IATF 16949 compliant service centers have demonstrated that they care deeply about their customers in the automotive market and are able to deliver a high level of customer satisfaction, making sure the Customer Specific Requirements are met.
9) Low Scrap Rates
Slit coil suppliers with high scrap rates are something else to investigate as an auto manufacturer. Elevated scrap can mean that the service center isn't efficiently purchasing the correct master coils, or that they don't have efficient production.
Either of these things might result in higher final pricing being passed on to the customer (that's you) because of the supplier's inability to properly minimize and efficiently manage scrap rates.
Having a low scrap percentage matters when selecting an aluminum or stainless steel raw material supplier as it is a good sign of the operation's resource optimization.
10) Financial Stability
Many of us who have been in the manufacturing world for a while have experienced it. The dreaded day a key supplier calls you up to tell you they're going out of business. It sends us scrambling, and can lead to chaos depending on the state of our own supplier development and diversity. This event can have a major impact on our materials management and production depending on how much that supplier was relied on for their products.
That's why it's so important to ensure that any supplier you're working with for your aluminum strip in coil form or stainless steel strip, and really any material or part key to your production, are financially stable. Your business needs the companies that make up its supply base to be stable financially, and avoid any that will be a potential risk for your supply chain in the short or long term. Your operations require partners that will be paying their bills on time, who you can put your trust in. Financial stability, after all, is reflective of the overall business' level of responsibility, reliability, organization, and priorities.
Again, buying coil is a purchase that you should never take lightly. For many of you, your ability to successfully hit your company's KPIs when buying steel and aluminum from melt mills, service centers, or precision rerollers hinges on a variety of factors.
Through our division in Mexico, Ulbrinox, we supply the highest quality precision aluminum and stainless steel strip to automotive manufacturers throughout North, Central, and South America. Our business is IATF 16949 as well as ISO 9001:2015 certified and committed to providing a best-in-class experience and product to automotive customers regardless of where they may fall within the supply chain. Whether you're an OEM or a contract manufacturer, if you're producing parts for ICE vehicles, or the next generation of EV's & FCV's we're here for you. Our expert team has seen it all. Ulbrich and their industry leading metallurgical prowess, we can help solve your material challenges of tomorrow, today.
We'd love to hear about the parts you're producing at your auto manufacturing shop. Engineer to engineer communication is the key to a successful partnership in the metal business. If you're in need of stainless or aluminum or other specialty metals, contact us and speak to one of our metal experts today!

All articles