Intersolar Europe 2022 Recap: The Sun Still Shines
By Sergio Sensini

Activity at this year's Intersolar Europe (May 10th - 13th) was very intense.
Instead of hosting its own booth, Ulbrich of Austria opted to share a space with Enlog's sales rep and their other principals. The result was a complete "Solar Hub Booth" for module materials needs. The booth was always busy, from the opening bell at 9:00 am to well over closing time when cheese, wine, and cocktails were served to customers and business partners.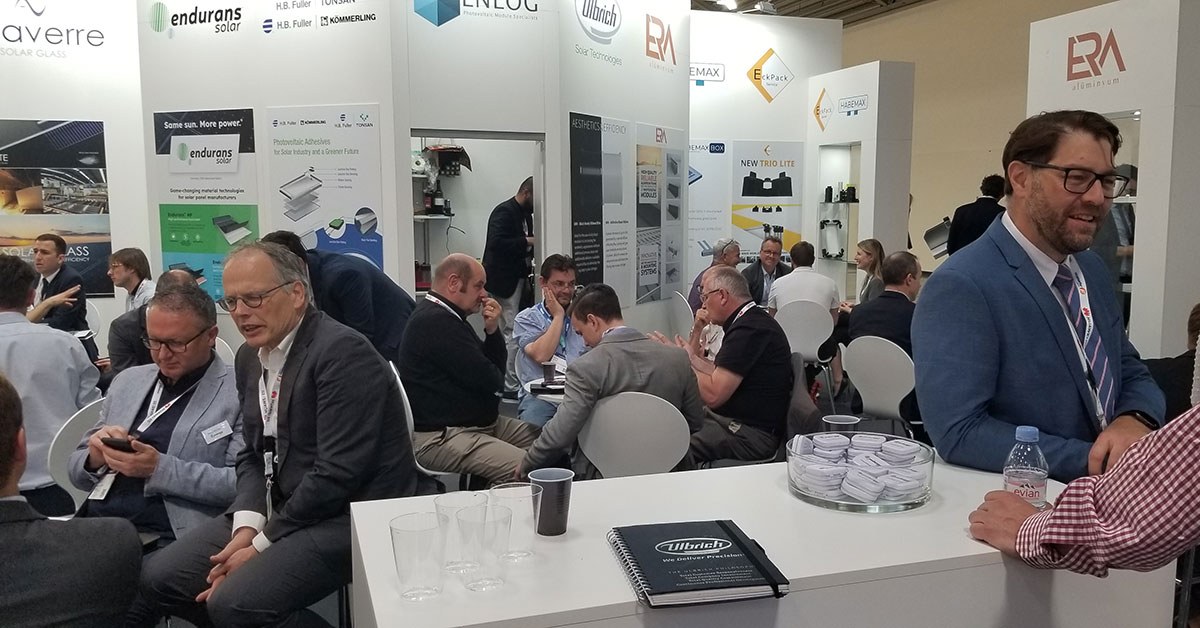 Two divisions of Ulbrich have PV photovoltaic capabilities and were showcased at Intersolar.
Before the Asian market domination that started in about 2014, SC-based Ulbrich Specialty Wire Products (Ulbrich Solar Technologies at the time) used to supply large quantities of ribbon; their business share these days is minor and focused only on smaller niche-oriented technologies.
For Ulbrich of Austria, on the other hand, solar production still represents the majority of its production.
But the global pandemic, sub-sequential interruptions, supply chain changes, logistic issues, energy crises, and global world events have dictated a shift. Western manufacturers are re-shoring, and European companies are looking for European suppliers. North American modules producers demand North American Suppliers.
Manufacturers understood that pricing alone is no longer THE only factor. Precision, quality, global economic factors, and supply chain benefits have become more important to the marketplace.
As a result, we foresee a return of Solar activities at Ulbrich and are excited to actively partner with forward-thinking customers in the space.

Ulbrich of Austria has been going through a diversification process that broadens our product offering within Solar, while simultaneously expanding our capabilities to branch out to other burgeoning markets across Europe, such as medical wire and high-performance cable.

Over the years, the solar business has seen highs and it's seen lows. It was even deemed "uninteresting for a while." But it never left. And it's on its way back.

After all, the sun always shines after the rain.
To learn more about our latest and greatest solar modular technologies, visit www.pvribbon.com!
All articles