Ulbrich Economic Update - Number 36 (May 2023)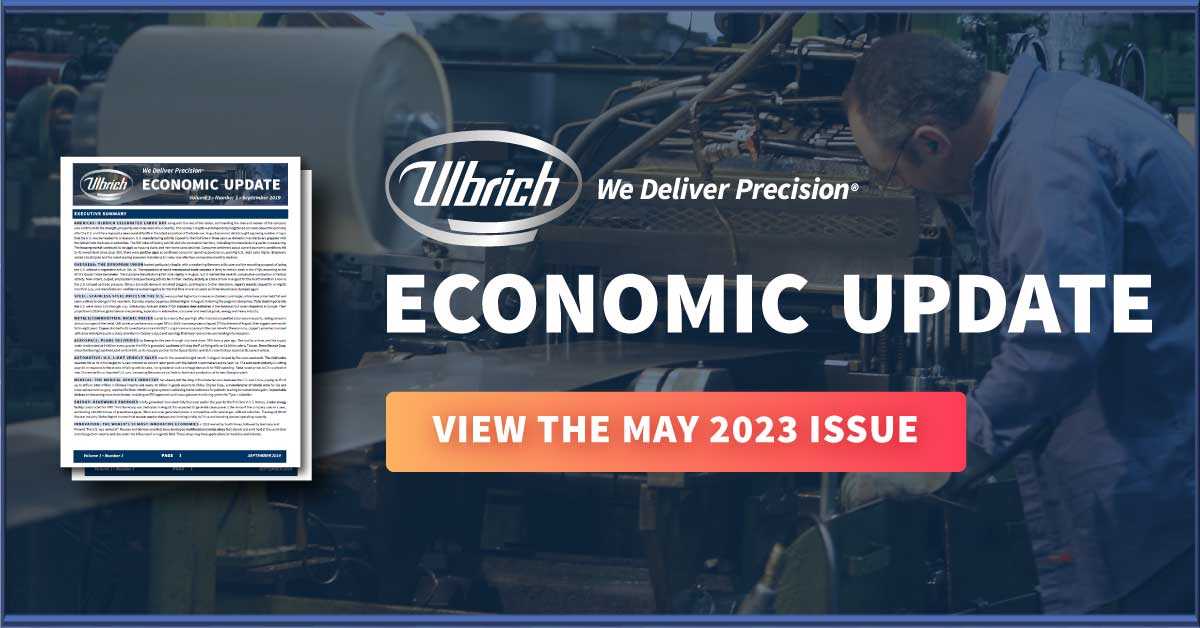 Get the Full May Issue:

Click here to download the 16 page Economic Update for the full details of recent economic trends impacting all industries across the globe, as well as the newly added PMA Quarterly Report which provides a snapshot of the latest association activities and member benefits. Continue reading below for the Executive Summary.
May 2023 Economic Update Executive Summary
The Americas
THE FEDERAL RESERVE RAISED INTEREST RATES BY A QUARTER POINT IN MAY and signaled it may pause further increases, giving officials time to assess the fallout from recent bank failures, wait on the resolution of a standoff over the U.S. debt ceiling and monitor the course of inflation. April data showed: U.S. hiring and workers' pay gains accelerated in April. Nonfarm payrolls increased 253,000. The manufacturing sector registered a slight improvement in operating conditions as output strengthened, with production increasing at the fastest pace since May 2022. Consumer confidence fell to a nine-month low led by a darkening outlook that augers a recession.
March data showed: Including mining and utilities, total industrial production climbed 0.4%. Production at U.S. factories fell 0.5%. Durable goods orders jumped 3.2%, boosted by a surge in orders for commercial aircraft. Factory orders rose 0.9%, boosted by a 78% jump in civilian aircraft bookings. The leading economic indicators fell 1.2% to its lowest level since November of 2020. Consumer prices climbed just 0.1% in March and year-to-date the CPI was up 5.0%, the smallest 12-month gain since May 2021. Producer prices fell 0.5%, and there were signs that underlying producer inflation was subsiding. Retail sales fell 1% as consumers cut back on purchases of motor vehicles and other big-ticket items. The trade deficit contracted sharply, down 9.1% to $64.2 billion.
Overseas
CHINA'S SERVICES SECTOR GREW AT A HEALTHY PACE IN APRIL, a sign that Chinese consumers continue to drive the country's economic rebound as its factory sector quickly decelerates. Activity in manufacturing fell unexpectedly below the 50 line in April, suggesting activity in the sector shrank over the past month. Eurozone business activity gathered momentum in April. The bloc's dominant services industry saw already-buoyant demand rise, more than offsetting a deepening downturn in manufacturing.
Steel Industry Updates
ACERINOX EARNED $150MN IN THE 1ST QTR, DRIVEN BY GROWTH IN ITS U.S. OPERATIONS, and forecast slightly better earnings in the 2nd Qtr. Robust demand for steel in early 2023 in the U.S., its biggest market, offset persisting difficulties in Europe. ArcelorMittal entered a joint venture to build an onshore wind farm in Brazil to help decarbonize its expanding steel operations there. The wind farm will cover nearly 40% of ArcelorMittal's power needs in Brazil in 2030. The project's estimated cost is $800mn.
Metals & Commodities
A LACK OF NEW COPPER MINING ACTIVITY has added to worries that there won't be enough of the red metal for the energy transition. Electrification is expected to increase annual copper demand to 36.6mn tonnes by 2031, with supply forecast to be around 30.1mn tonnes, creating a 6.5mn tonne shortfall by 2030. The U.S. has become reliant on foreign sources to meet domestic demand for minerals and fossil fuels. Today, it is 100% import-reliant for 17 mineral commodities and at least 50% for 30 others.
Automotive Trends
A NEW CATEGORY OF RANGE-BOOSTING BATTERY TECHNOLOGY is moving into mass production for EVs. Sila Inc. is in the later stages of qualification with auto manufacturers before a new factory begins production late next year. Sila says its Titan anodes will immediately boost maximum vehicle ranges by 20%. Tesla cut prices for some of its Model Y and Model 3 vehicles in the U.S. for the sixth time this year to spur demand as competition among electric vehicle makers heats up around the world.
Energy Sector News
GERMANY'S LAST REMAINING NUCLEAR POWER PLANTS were switched off in April, marking a watershed moment in a country that has long harbored deep skepticism of atomic energy. Critics see the shutdown as an act of madness while Europe's energy supplies remain precarious, and the world is striving to wean itself off fossil fuels. Carrier Global Corp. agreed to pay €12 billion to acquire a German unit of Viessmann Group that produces heat pumps, allowing Carrier to capitalize on the green energy transition underway.
Medical Insights
INSULET RECEIVED FDA CLEARANCE FOR A TUBELESS INSULIN PUMP designed for people with Type 2 diabetes. The device, called Omnipod GO, is intended to replace daily injections of long-acting insulin. Blackstone is trying to curb rising employee health costs with an AI-powered individualized approach to diabetes to reduce people's reliance on costly new drugs. It is testing an app from Twin Health with workers across its companies. AntennaWare has a newly patented technology that may improve how implants wirelessly send data from within the human body, reducing the energy needed to transmit data and increasing the life span of devices.

Aerospace Developments
AN ARIANE-5 ROCKET LAUNCHED EUROPE'S €1.6BN JUICE SPACECRAFT on an eight-year voyage to Jupiter and its icy moons, where it will search for signs that liquid oceans lie beneath their frozen surfaces that might support life. Jupiter Icy Moons Explorer is the most complex planetary space mission ever attempted. SpaceX's attempt to send its Starship system into space ended in a blast after an engine failure forced it to blow up the rocket shortly after liftoff. Boeing announced 130 airplane deliveries over the 1st Qtr, inching past rival Airbus, which delivered 127 jets. Boeing's deliveries were up 27% from a year earlier, when it delivered 95 jets.

Stay Up to Date:

Stay up to date on the latest state of the markets and ecosystems fueled by stainless steel and other key manufacturing materials by subscribing to get the Ulbrich Economic Update delivered to your inbox monthly. Subscribe to our newsletter.
All articles