Ulbrich Economic Update - Number 32 (January 2023)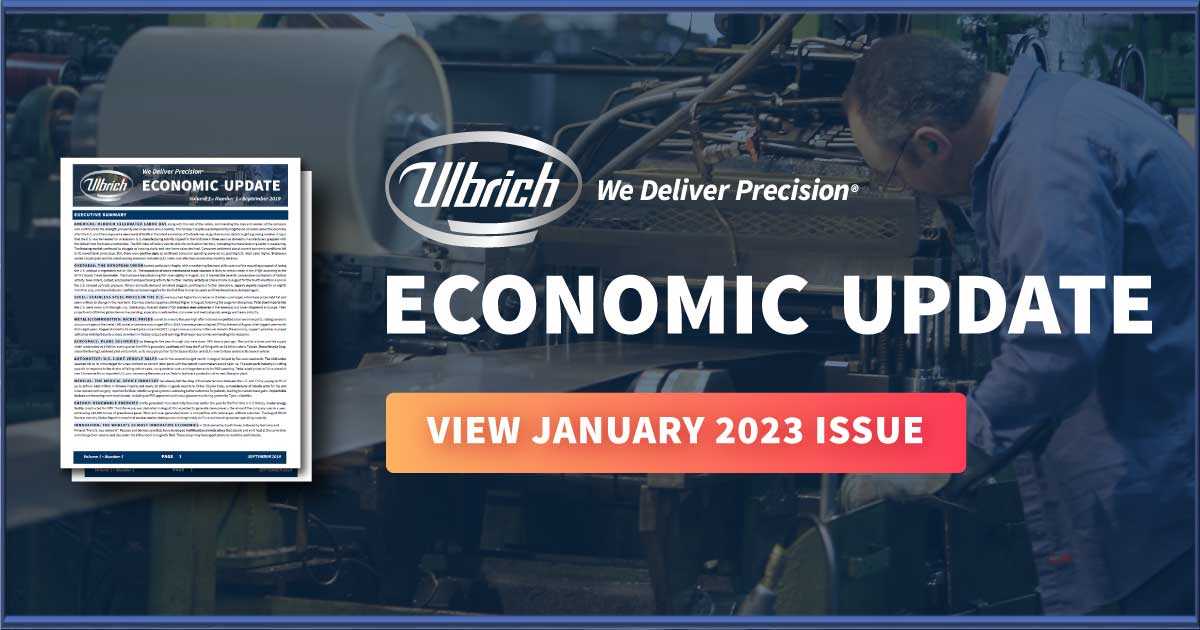 A Message From Our CEO
I would like to thank all the readers of our Economic Update newsletters. At critical times, articles like these help us make more informed choices in our personal and professional lives. Thank you, Charles, for your vital work aiding our decision-making.

I would also like to wish everyone a healthy and prosperous 2023. Ulbrich will be celebrating our 100th year in business in 2024. Our family would like to thank all of you for helping us as we approach this significant milestone.

Enjoy our 2023 issues of Economic Update.
Chris Ulbrich, Chief Executive Officer/Chairman
Get the Full January Issue:

Click here to download the 16 page Economic Update for the full details of recent economic trends impacting the steel and commodities markets, as well as the associated industries across the globe. Continue reading below for the Executive Summary.
January 2023 Economic Update Executive Summary
The Americas
U.S. MANUFACTURING CONTRACTED FURTHER IN DECEMBER, but prices paid by factories for inputs fell to the lowest level in more than 2.5 years, signaling that goods disinflation was underway. Other December data showed: Employers added 223,000 jobs. Monthly average hourly earnings grew 0.3%, while annual wage growth came in at 4.6%. Both measures decelerated from November. Consumer confidence rose to an eight-month high as inflation retreated and the labor market remained strong.
November data showed: Durable goods orders fell 2.1%, weighed down by a 6.3% drop in orders for transportation equipment. Motor vehicle orders slipped 0.1%. Orders for the civilian aircraft category plunged 36.4%. Factory orders fell 1.8%. The decline is the first after three consecutive monthly increases. The U.S. trade deficit contracted by the most in nearly 14 years, falling 21.0%. Imports tumbled 6.4%. The producer price index rose by 0.3%, with a 3.3% decline in energy prices offset by a 3.3% gain in food prices. Consumer prices increased just 0.1%. Gasoline prices dropped 2.0%. Retail sales dipped 0.6%, the biggest drop in eleven months. Sales at auto dealers fell 2.3% as motor vehicles remain in short supply. Existing home sales fell 7.7% and have now plummeted 35.4% on a YOY basis.

Overseas
THE EUROZONE'S ECONOMIC DOWNTURN MAY BE MILDER THAN EXPECTED. S&P Global's flash eurozone composite PMI rose in December, hinting that any downturn will be less severe than thought likely a few months ago. COVID-19 is now spreading rapidly through China's biggest cities, leading to widespread illness, business disruption and medicine shortages. Normal life came to a halt just a few weeks after Beijing abandoned the zero-COVID policy of containment with little forewarning.
Steel Industry Updates
U.S. ROLLING MILLS HAVE REACTED TO WEAKER PRICES, CUTTING PRODUCTION SINCE MAY. At present, steel mills are operating at a 74% utilization rate, compared to 83% in the same period last year. A seasonal pickup in offtake and a reversal in the destocking cycle could support a rebound in pricing in the 1st Qtr. Hot-rolled coil prices dipped slightly the last week of December. The WTO's decision that Section 232 steel and aluminum tariffs violate global trade rules is unlikely to impact U.S. metal producers or consumers. The Biden administration pledged it would not remove the Section 232 penalties and strongly condemned the decision.
Metals & Commodities
INDONESIA WILL IMPOSE A BAN ON BAUXITE EXPORTS FROM JUNE OF 2023. The bauxite ban could drive up aluminum prices in the short term. Nickel prices reached $13.30 per lb. at the end of December, up 13.24% from November and 44.62% YOY. European natural gas prices have fallen to the lowest level since before Russia's full-scale invasion of Ukraine. The January benchmark European contract dropped as much as 7.4% to €76.78 per megawatt hour on 12/27 vs. more than €300 over the summer.
Energy Sector News
A KEY BREAKTHROUGH IN NUCLEAR FUSION WAS ACHIEVED BY SCIENTISTS at the Lawrence Livermore National Laboratory. Researchers were able to produce a fusion reaction that generated more energy than it consumed. Though still many years away, the technology offers the promise of abundant carbon-free electricity. France has restarted 15 nuclear reactors and cut electricity consumption sharply, easing fears the country will have to resort to rolling blackouts this winter. Aluminum producer Norsk Hydro is launching "thousands of initiatives" to cut costs as European heavy industry fights to stay competitive amid surging power prices.
Automotive Trends
THE U.S. AUTO INDUSTRY IS POISED TO POST ITS WORST ANNUAL SALES IN MORE THAN A DECADE, as supply-chain snarls and poorly stocked dealerships dented sales for many car companies in 2022. Industrywide, U.S. auto sales were projected to total 13.7mn vehicles in 2022, which would be the lowest figure in more than a decade. PepsiCo plans to roll out 100 of the heavy-duty Tesla Semis it reserved for 2023, when it will start making deliveries to customers with the electric semi-tractor trailers.

Medical Insights
DEVICE PRICING WILL DRIVE MODEST UPSIDE TO SALES AND MARGINS IN 2023. Medtech companies are set to make more gains as multi-year purchase contracts catch up with prior inflation. Goldman Sachs expects the positive pricing trends to continue in 2023. Tandem Diabetes Care is acquiring AMF Medical, a Swiss company developing a patch insulin pump. The Sigi Patch Pump, which is not yet commercially available, is a rechargeable patch that uses pre-filled insulin cartridges.
Aerospace Developments
UNITED AIRLINES WILL PURCHASE 100 BOEING 787 DREAMLINERS with options to buy 100 more, a win for the plane maker after a streak of manufacturing, engineering and regulatory setbacks. The order is the largest by a U.S. carrier for widebody jets, generally used for long-haul international routes. NASA's Artemis 1 moonship returned to Earth to close out a 25-day, 1.4mnmile test flight to the Moon and back. Re-entry and splashdown were the final major objectives of the Artemis 1 test flight. The global aviation industry cut their losses significantly in 2022 and are now predicted to return to profitability in 2023.

Stay Up to Date:

Stay up to date on the latest state of the markets and ecosystems fueled by stainless steel and other key manufacturing materials by subscribing to get the Ulbrich Economic Update delivered to your inbox monthly. Subscribe to our newsletter.
All articles