Ulbrich Economic Update - Number 13 (June 2021)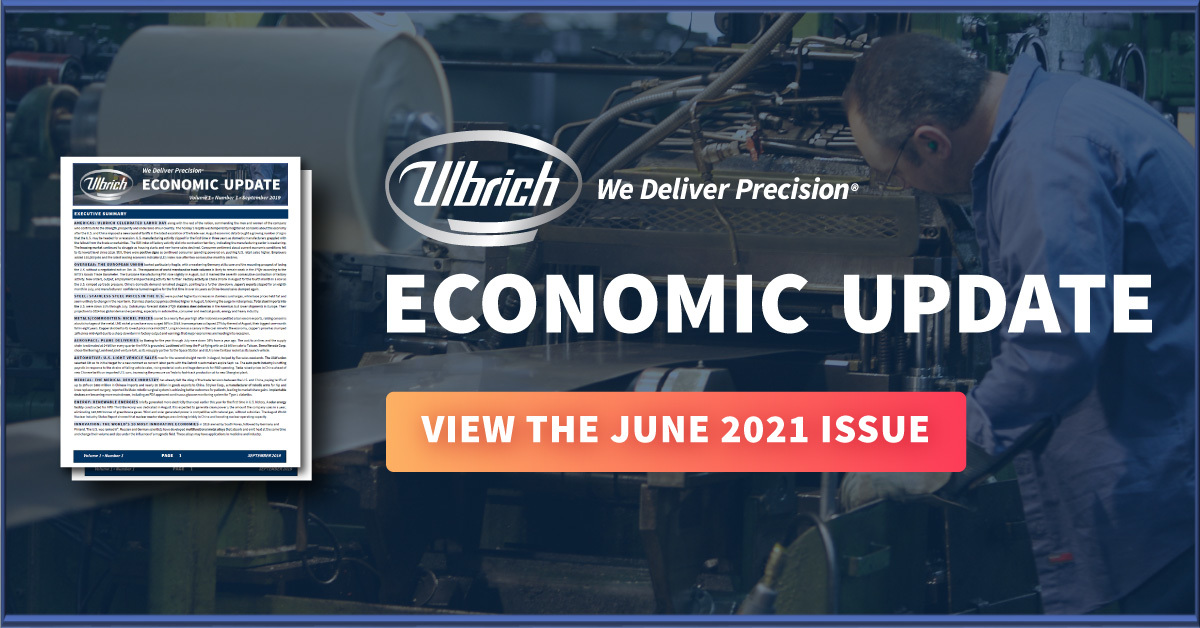 Get the Full June Issue:
Click here to download the 16 page Economic Update for the full details of recent economic trends impacting the steel and commodities markets, as well as the associated industries across the globe. Continue reading below for the Executive Summary.
June 2021 Economic Update Executive Summary
The Americas
U.S. FACTORY ACTIVITY INCREASED AGAIN IN MAY but the ISM survey found companies and their suppliers continue to struggle to meet increasing levels of demand due to record-long lead times, wide-scale shortages of critical basic materials, rising commodities prices and difficulties in transporting products. Hiring in the U.S. picked up in May, signaling a moderate improvement in the labor market as businesses struggled to fill job openings. Durable goods orders fell in April, but excluding a 6.7% decrease in the transportation component, new orders were up 1%. U.S. industrial production rose 0.7% in April as the shortage of semiconductors for auto manufacturing tempered gains. Production of motor vehicles and parts fell 4.3%. Factory orders fell in April, weighed down by a 6.1% decrease in orders for motor vehicles and parts. U.S. import prices rose sharply in April. They have climbed 10.6% over the past 12 months. The Administration is weighing concerns about commodity shortages and inflation as it reviews trade tariff policy. American companies borrowed $9.8 billion for capital investments in April, up 19% from a year earlier, signaling additional recovery.
Overseas
JAPAN'S ECONOMY CONTRACTED 5.1% IN THE 1ST QTR amid a resurgence of COVID-19 infections. Eurozone business growth in May accelerated at its fastest pace in over three years. Royal Dutch Shell was ordered to increase planned greenhouse gas emission cuts in a landmark ruling that could pave the way for legal action against energy firms around the world. AMAG Austria Metall began installation of the largest rooftop photovoltaic system yet installed in Austria at its new aluminum rolling mill in Ranshofen.
Steel Industry Trends

THE U.S. AND THE EU BEGAN DISCUSSIONS TO RESOLVE THE CONFLICT OVER STEEL and aluminum imports. The talks will focus on ways to reduce a global steel glut. Steel industry groups and the USW union urged President Biden to maintain steel tariffs, saying lifting the Section 232 tariffs now "would undermine the viability of our industry". Steel prices are at record highs and demand is surging, as businesses step up production and resume hiring amid an easing of pandemic restrictions.
Stainless Steel
ACERINOX REPORTED A 177% INCREASE IN 1ST QTR PROFITS VS. LAST YEAR. The company cited strong performance in the stainless steel sector for consumer goods, an order backlog 80% higher than in March 2020 and strong order intake in the high-performance alloys division. JSW Steel USA signed a long-term agreement with Allegheny Technologies for the toll conversion of steel slabs manufactured at its Mingo Junction mill into hot-rolled coils at ATI's rolling mill in Brackenridge, PA.

Latest Aerospace Developments

FLYING AT MACH 16 COULD BECOME REALITY WITH NEW PROPULSION SYSTEM. Researchers are building on a technology that could pave the way for hypersonic flight, such as travel from New York to Los Angeles in under 30 minutes. The technology stabilizes the detonation needed for hypersonic propulsion. Europe's Airbus urged suppliers to prepare industrially and financially for steep increases in jet output. United Airlines purchased 15 Boom "Overture" supersonic aircraft, with an option for an additional 35 jets. It is targeting the start of passenger service in 2029 with a plane that could fly at Mach 1.7 and cut flight times in half.

Medical Insights
NEW SKIN PATCH DRAWS CLOSER TO WEARABLE, ALL-IN-ONE HEALTH MONITOR. UC San Diego engineers developed a skin patch to continuously track blood pressure, heart rate and the wearer's levels of glucose, lactate, alcohol or caffeine. It is the first wearable device that monitors cardiovascular signals and multiple biochemical levels at the same time. AstraZeneca's $39 billion takeover of U.S. biotech group Alexion is being probed by the UK competition regulator. The Administration moved to sharply ramp up COVID-19 vaccine shipments to other countries. As of mid-May, the U.S. had produced more than 333 million doses of vaccine.

Automotive Industry Advancements

LESSONS FROM 2011 DISASTER HELP TOYOTA RIDE OUT CHIP SHORTAGE, while other global car makers were forced to revise production plans. Toyota is exceeding its sales targets this year and expects to sell even more units in the next 12 months. An all-electric Ford F-150 Lightning pickup was debuted, aggressively priced for an EV, with the potential to supercharge the electric car market. Used-car prices have surged due to the global chip shortage that has damped production of new cars.

Metals & Commodities News
MORE THAN 90% OF THE WORLD'S MANGANESE PRODUCTS ARE PRODUCED IN CHINA. Dozens of Chinese manganese processors accounting for most of global capacity joined a state-backed campaign to establish a "manganese innovation alliance" that others in the industry say is a production cartel. The alliance succeeded this year in throttling the supply of key products, mainly steel-strengthening additives, sending their prices soaring more than 50% in 3 months. Iron ore prices fell sharply after China signaled that it would focus on efforts to cool soaring prices, warning of "excessive speculation", as concerns grow over rising inflation.

Energy Sector Updates

OLDER FOSSIL-FUEL POWER PLANTS are shutting down across the U.S. in favor of renewable energy, but some are getting a new lease on life—to mine bitcoin. Wind power companies will see the levelized cost of energy drop by as much as 35% by 2035, driven by bigger and more efficient turbines, lower capital and operating costs and other advancements. Vistra Corp., which owns one of America's largest fleets of natural-gas power plants, intends to invest more than $1 billion in solar farms and battery storage units.
Stay Up to Date:
Stay up to date on the latest state of the markets and ecosystems fueled by stainless steel and other key manufacturing materials by subscribing to get the Ulbrich Economic Update delivered to your inbox monthly. Subscribe to our newsletter.
All articles