301 Stainless Steel Strip for Spring Applications
Type 301 stainless steel strip is particularly well suited for the manufacture of high strength room temperature springs. When 301 stainless steel strip is tempered to high strength levels it maintains its ductility with or without stress relieving.
Traditional 301 (UNS 30100) stainless is used for most applications while 301Si (UNS 30116), with an increased Silicon content, is used for "super" high strength spring applications. Standard 301 has a silicon content of 1.0 max and 301Si increases that content to 1.0 - 1.35. The extra silicon allows for good ductility at higher tensile strength. Both are produced to ASTM A666.
When deciding, is 301 is the appropriate grade for your spring application? You should answer these 8 questions:
What is the bend severity when fabricating the spring?

Does the finished spring need stress relief anneal?

Is fatigue resistance critical to performance?

What is the operating environment of the spring? (temperature, corrosion, abrasion?)

Does the strip need to be edged?

How do you need the strip packaged? (oscillate or ribbon wound?)

Which mechanical properties are most important to your fabrication? (tensile, yield, elongation or hardness?)

What finish should your 301 strip have?
Once you've answered the above questions you're ready to talk to an Ulbrich Product Specialist. Below are some of the aspects of 301 stainless steel strip that can be engineered and manipulated to give you the very best material for your 301 spring application.
Yield Strength: When choosing the chemical composition (301 vs 301Si) of the material selected for your order and the amount of cold rolling, a wide range of tempers can be provided for your application. Stainless Steel 301 can be produced from 1/8 hard to Extra Full Hard with yield strengths ranging from 60 ksi to 280 ksi.
Ductility: When 301 stainless is rolled to the highest strength levels (extra full hard) there are chemistry options (as noted above) that we can select to improve the material's ductility. Because the limiting factor in increasing yield strength is the loss of adequate ductility, our processing engineers can select from 301 or 301Si chemistry options and processing flexibility to create the best properties for your application.
Gauge Tolerance: Gauge variation is limited by the use of Sendzimir mills or four-high mills with exacting automatic gauge controls. We can provide extremely tight gauge tolerances on our mills due to our state of art gauge controlling systems. Your requirements will be reviewed closely with our product specialists to engineer the best rolling process for your spring requirements.
Stress Relief: Although most stress relieving is done on finished parts, Ulbrich may be able to stress relieve your 301 strip in our continuous furnaces. Stress relieving increases yield strength and hardness while reducing elongation.
Flatness: Rolling and leveling controls the 301 stainless steel strip's flatness. On material below .025 and within the tensile limitations of the equipment, stretchbend leveling can achieve critical flatness requirements. For material over .025" it is accomplished through precision rolling techniques.
Camber: Camber is usually a result of rolling material that is 'out of flat' and in some cases can be corrected. When camber is a critical aspect of the finished product, it is best to discuss max camber allowed when placing your order.
Bend Factor: Chemical and mechanical properties must be carefully chosen to achieve the desired bends in finished projects.
Springback: When stamping your 301 strip, controlling springback can be critical to your manufacturing process. By selecting very tight chemistry and a small range of acceptable yield this issue can be readily addressed.
Edges: Ulbrich can provide your 301 stainless steel strip with deburred or skived edges. These coils can also be traverse wound to increase coil size and productivity.
To learn more about our 301 stainless steel strip visit us at www.Ulbrich.com or call us at 1-800-243-1676 out of the US +1 203-239-4481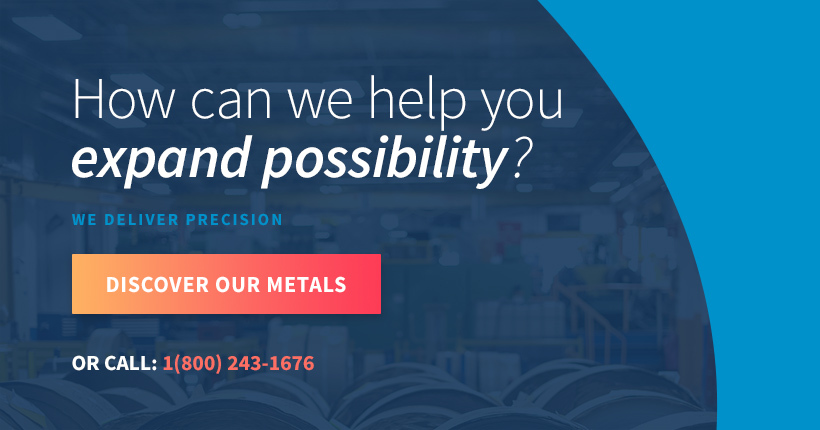 All articles