Ulbrich Sustainability Efforts
Our Plan for Corporate Environmental Responsibility
At Ulbrich, we believe that climate change is among the most urgent challenges facing businesses today. To safeguard the environment for generations to come, it's become imperative for us to thoroughly assess how our business practices either add to or alleviate this pressing issue.
What Sustainability Means at Ulbrich
Ulbrich is a fourth-generation family business that's not only survived but thrived because, for almost 100 years, we've prioritized preserving and creating value. And we believe that a business model that emphasizes sustainability will only contribute to the long-term success of our company.
Environmental, Social and Governance
What Is ESG & Why Does It Matter?
ESG is important because it spotlights the need to protect the environment and the community—and it has resulted in a conscious international effort to be greener. Metals businesses already have a great start with recycled steel and aluminum, but there's still much more work to be done and challenges ahead.
Continue Reading
Discover Our Approach
Each of Ulbrich's 9 worldwide divisions have implemented sustainability measures to sufficiently use raw materials and energy, avoid waste whenever possible, and offer our employees and stakeholders a socially fair environment.
ISO 14001 Certified
The ISO 14001 certification is looked at as an important manufacturing certification as it shows a company's dedication to environmental responsibility. Earning this certification shows that a firm is working to reduce their negative environmental impact in all their processes and can help companies build a more positive relationship with their customers and avoid environmental sanctions. At Ulbrich, we strive to meet the main requirements of this standard, even at locations who are not officially 14001 accredited.
See Our Certifications
Shaping With Solar Energy
In 2017, Ulbrich Shaped Wire installed more than 500 solar panels on the roof of its North Haven, Connecticut manufacturing facility. What's especially interesting about this application is that the metal that is produced by Ulbrich is used in the modules themselves, making this a highly collaborative project.
Read More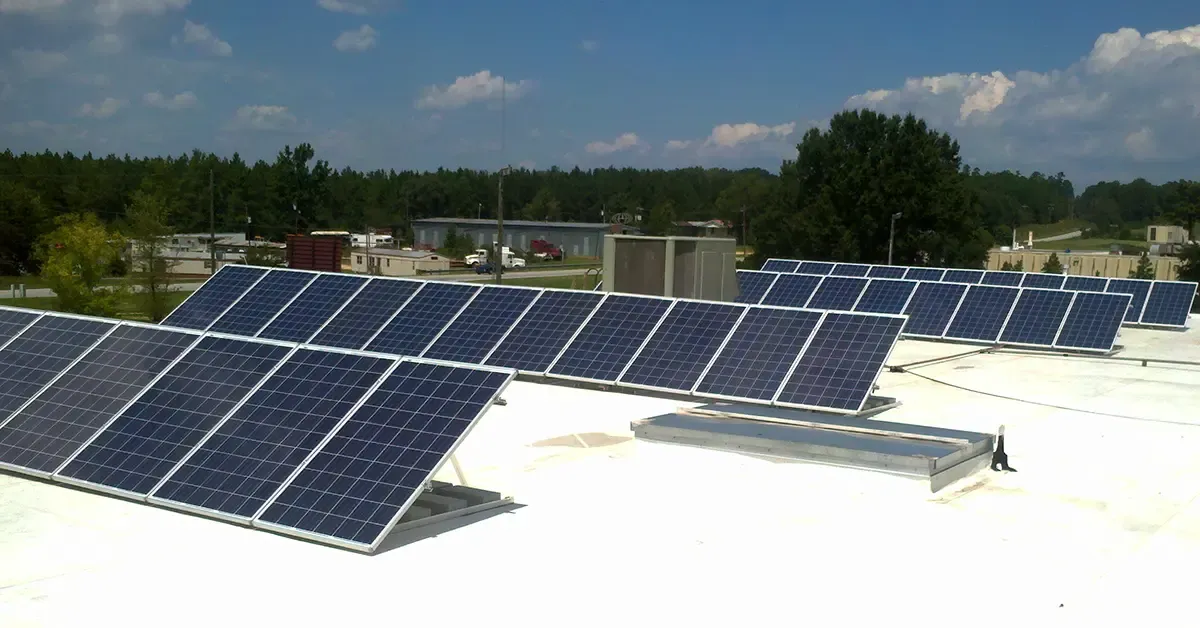 Powering While Empowering
In 2012, a roof-mounted solar array was installed at our Westminster, South Carolina location to help power Ulbrich Specialty Wire Product's manufacturing facility. Designed to harness the sun's power as well as demonstrate our photovoltaic ribbon products, the array consists of 40 modules and is a pioneering step in support of the clean energy movement.
Read More
Ulbrich of Austria's Sustainability Report
Ulbrich of Austria's commitment to sustainable products and production while undergoing a complete transformation of their business proves that environmental responsibility and business growth aren't mutually exclusive.
Download Now
100%
recyclable
Due to stainless steel having a recycling rate of 100%, process scrap is not seen as waste but as recyclable materials. In fact, more than half of all the stainless-steel materials that are in use today have been sourced from scrap materials.
50+
years of use
Steel's durability and long lifespan mean that products made from steel are less likely to require frequent replacement, further reducing resource consumption over time.
0
toxic run-off
Different production levels generate wastewater. All these are treated and reused as many times as possible using advanced filtration and clarification equipment, causing the production process to be entirely environmentally friendly.
The Circular Economy of Metal
How Green Is Stainless Steel?
Individuals and business entities can make a huge difference by simply going for stainless steel rather than other non-recyclable raw materials. What makes it stand out as the ultimate green raw material?
Learn More
Our Global Reach
Ulbrich has the supply chain relationships to secure the material you need. Partner with us to keep costs down, improve delivery performance and gain a competitive advantage.
Experienced Supply Chain Management
Our Philanthropic Efforts
The Ulbrich Family Philanthropy Committee makes charitable donations to Non-Profit organizations yearly, as well as supports charities and community events employees are directly involved with through the Ulbrich Matching Program for Charity.
Ulbrich Corporate Social Responsibility