Automotive Meetings Queretaro 2022
February 15-17, 2022 | Queretaro Centro de Congresos | Queretaro, Mexico
Learn More
See us at Automotive Meetings Queretaro!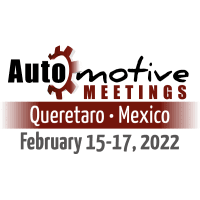 Automotive Meetings Queretaro is an outstanding and supply chain oriented business forum for contract manufacturers to meet through pre-planned business to business meetings and discuss partnership or business opportunities. OEMs and their Tier 1 & 2 suppliers will meet contract manufacturers offering specialized capabilities and services for automotive applications.
As technology continues to evolve the automotive industry, so has our dedication to serving the market. Ulbrich has innovative leadership in identifying and providing promising materials solutions to meet future needs in the automotive industry.

Booth TBD
February 15-17, 2022
Queretaro Centro de Congresos - Queretaro, Mexico