Ulbrich Specialty Wire Products Supplies High Quality Wire for Music Industry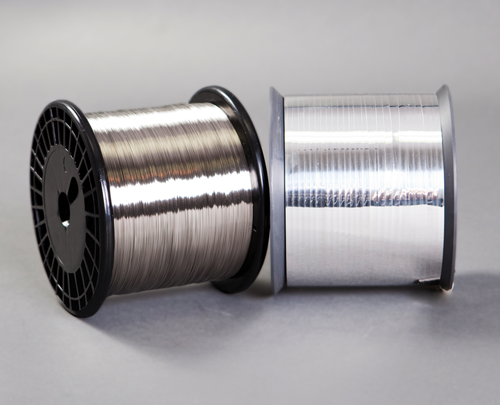 Music wrap wire is a fine wire that coils around the outside of music string. Music string is used on guitars and other bowed instruments. Many factors contribute to a musical instrument's quality of pitch, tone or sound. The highest quality sound is created by superior materials including the wood or brass of an instrument, its shape and other structural features. Perhaps the most critical component is the quality of the music strings to create perfect pitch and tone.

Music wrap wire, along with the string's base alloy, wire shape and coating, effect the subtle nuances of the sound produced. These desired tonal features are an integral part of the string's design as well as its cosmetic appearance, cleanliness, and "feel" to the fingers of a musician. The surface finish of these wires influence the quality as well as the durability of the alloyed material used in steel musical strings.
Ulbrich's capabilities include a diverse product line of round and flat wire in alloys such as Silver-plated Copper, 430 Stainless Steel, Nickel-plated low-carbon Steel, Phosphor Bronze, Brass, Nickel, and more. As a leader in specialty wire production and development, Ulbrich's wire manufacturing capabilities can reach as small as 0.0009″ diameter (about 5 times thinner than a human hair). Ulbrich's advantages include tight diameter and mechanical property control, which translates to consistent tonal and pitch qualities of musical instruments and their metal alloy strings.
3 years ago, Ulbrich invested in our workforce and equipment dedicated to active music wrap wire programs. By creating a manufacturing unit (focus factory) called the Music Wire Cell, Ulbrich seeks to meet demand, to grow supply and to exceed customer expectations. Proprietary processes in-house drawing, annealing, and plating techniques Ulbrich also relies on experienced staff with a high level of technical knowledge in terms of processing specialty wire. Material science engineers and experts help Ulbrich Specialty Wire Products drive new developments in coordination with innovative music wire customers.
In addition, Ulbrich has recently developed a general music wrap wire stocking program of commonly used sizes and alloys for quick response to new and existing music string customers. Inventory management and customer service are areas in which Ulbrich excels and this program allows for music wrap wire customers to stabilize their supply chain.
Current new product development efforts by Ulbrich in this sector include working with a certain customer to break into the music core wire business (Tin coated High Carbon Steel). Ulbrich is working hard to expand upon its success within music wire industry by taking on the most challenging opportunities presented by customers and other music industry manufacturers.
Learn more about Ulbrich's Music Wrap Wire Stocking Program.
Ryan McFarland and Weston Ulbrich contributed to this article.
All articles